Googes Little Big Horn (Scarlett)
Scarlett was our first bengal. We bought her from Gene Ducote, Gogees, USA. We are very happy that she would sell us beautiful Scarlett, and we are grateful for the advice we have had from Gene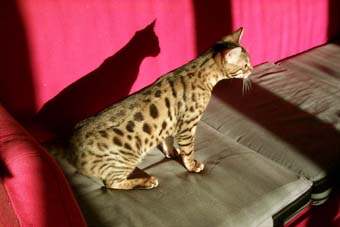 Scarlett is a very beautiful bengal with a lot of qualities. First and foremost she has an amazing body type and fascinating "wild" moves. They can not be seen in a picture, but you will never get tired of looking at her live.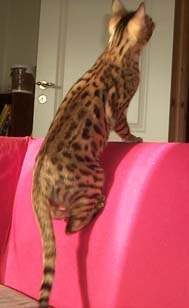 She also has a very nice head. She has big eyes, a great profile and she has some very nice whisker pads. She has nice rounded ears, but they maybe are a little to big.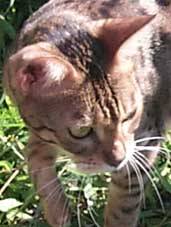 Scarlett has big dark spots, and some are slightly rosetted. She is somehow a chameleon. In some light (or closer - in the lack of light) she can appear quite dark, but mostly she has got an impressing contrast between her ground color and her spots. She has an amazing slick silky coat, and this is another quality you can not see on a picture, but try to touch her - then you will know that it is very special.
Scarlett has got a very stable temper, and she likes even small noisy children. Click to see Scarletts first litter. Click to see Scarletts pedigree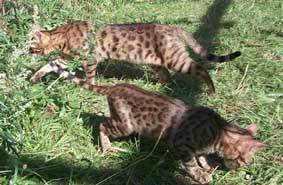 Scarlett and Beluga
© 2001, Little Big Horn DK